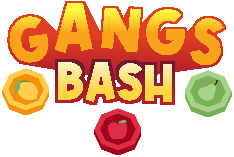 Gangs Bash
A downloadable game for Windows
< Made on less than 3 days for GMC JAM 40 >
This game is very, VERY unfinished and has a lot of improvement potencial. Read the devlog here.
< Premise / Lore >
There was 3 Gangs, Red, Green and Yellow. They were celebrating a party pacefully, but there was just 1 pizza left, so instead of being rational and share the slices, they are now fighting for the pizza on 8 5 minigames!
The gang with more slices at the end, wins the whole pizza!
(Author comment: It wasn't part of the rules, but i also limited myself to use only the AAP-64 colour palette on this game.)

< Controls >
← : Turn / Move left
→ : Turn / Move Right
↑ : Move forward / up
↓ : Move Backwards / down
Z: Actions
< Some known Bugs >
The IA sometimes is just stupid and freezes in place, sorry. :(
< External Credits >
Download
Click download now to get access to the following files: